My shoe shopping usually leads me to Payless for cute crap, No Sweat for everyday shoes, and Zappo's and Planetshoes for shoes that I'll pay a bit more for.
I recently bought two pairs of shoes, these
Blowfish Snap Flannels
from Planetshoes, also pictured above, were the first:
These are mainly for work. I think they're freaking adorable, and dig the strap, and they are comfortable - but they're very 'slipper' type shoes.
Better than Payless crap, but I need to treat my feet right due to foot problems in the past year, and these don't offer much support. However, these are fun to skip in and feel like a ballerina.
The second pair I bought,
J-41 Sidelines
, are proving excellent for everyday walking and offer true support:
They're almost a little too sneaker-y for work, but I can pull it off in some outfits. They've taken a little bit of wearing in, and I had to order a size up (as instructed on Zappos). These are the most expensive shoes I think I've ever worn at $93, but so far, I can practically say they are worth it. It's weird wearing shoes with 'Jeep' technology or whatever, but I really do like them.
Sorry for the odd shot! I actually like the Sideline Mesh style and colors a bit more, but the rain (cough: mist:) in Portland talked me into the corduroy sides.
I'll reconsider this summer...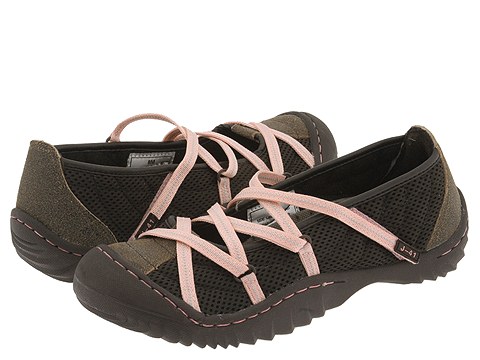 And shoes that I wouldn't mind owning in the future:
Sugar shoes
from
Alternative Outfitters
. I've had a couple pairs of sugar mary janes in the past and adored them.
How could this list be complete with a mention of Earth shoes? I was really close to buying this pair of
Inhales
, but needed a bit more support that what they seemed to offer.
And thank you to Kim for pointing me in the direction of these
Seychelles and BC The Wildlife Preserve Shoes
:
aww, aw, aw! I want.
What's your favorite pair of vegan shoes?