I'm sorta sorta sorta back to posting. No big NYC write up yet due to a busy work life and dramatic everything else, I'm really here to say hey, it's
Try Vegan Week
!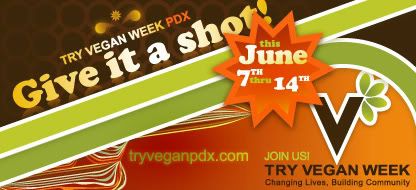 Check out the site for information on a ton of talks, events, potlucks and more. The 80s themed
Prom
is Friday the 13th!
I try to spread a positive view and approach to veganism with cooking, and sure, talking about my life in Portland, since I'm mostly a shy person - but there is SO much more than that and if you're in the Portland area and want to learn more about veganism, check out some events this week.
I'm also a lucky winner of the recent
Sweet & Sara
Marshmallows contest. Swoon.
Time to
feel faint
again. Since they're produced near my sister's apartment in the NYC area, I had them delivered to her. We picked them up from the post office the day I arrived. Even my sister, Jenny, adored them.
I have to say, I actually like the straight up plain marshmallows best of all the types I've tried so far. Little clouds of gelatin-free perfection.
The first evening we were in town, my sister's boyfriend sadly had to work, so my sister and I put together this meal, since she actually leftover tofu in the fridge:
Cornmeal crusted tofu, spanish rice (
Near East
) , spicy black beans with roasted tomatoes, corn, jalapeno and garlic and rosemary roasted potatoes
.
It was delicious, especially since we made it together.
Living thousands of miles away from your sister sucks.
Speaking of sucking, sorry about the lighting, I was beat.
The night before we left for NYC, I made a last minute meal of these veggies in the fridge:
roasted maiitake mushrooms and sesame garlic scapes and asparagus
.
I've missed Portland's fresh, local, affordable produce.
Another before-the-vacation meal:
mixed grain rice with a chili-tofu-basil-veggie stir fry
.