My boyfriend and I are on a mission to eat healthier, and we tend to overlook salads, because they're such an obvious and usually boring choice when you don't eat meat. As you can imagine, we're into eating our vegetables, but we tend to love carbs. Also, I've really been cravings greens too, even kale, believe it or not, and I'm much more a spinach girl. Kale is on the grocery list for next week..and I bought sprouts tonight!
This salad is organic field greens, spinach, cucumber, broccoli, yellow cherry tomatoes, yellow bell pepper, plum tomato & sliced carrots. For dressing we used a tiny bit of Spectrum organic olive oil and fresh squeezed lemon juice.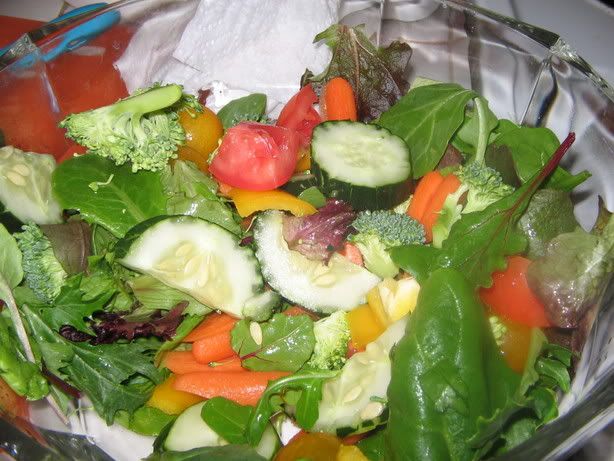 On top of Thomas' salad was Quorn tenders, grilled on the George Foreman, sprayed with a teeny bit of Braggs (love the little spray bottle):
On top of my salad was some leftover breaded & baked tofu from the dinner before last. Originally I had firm tofu that I drained & lightly pressed, marinaded in braggs, cut into large pieces and breaded.
Breading tofu cutlets..First, I dipped the tofu into a bowl of white flour (I hate that this is in the house, I prefer whole wheat pastry), dipped the piece in plain soymilk with a teeeeeny bit of braggs in it, and then smothered then in breadcrumbs. I purchased these plain breadcrumbs at an italian grocery, and added salt & pepper, a pinch nutrional yeast, oregano & mixed italian herbs (great seasoning blend to have). I baked them in an oven set to 400, on a lightly greased baking sheet, for 20 minutes on each side. I like these best 'parmesan' style, or even served over a small dish of pasta with a lot of sauce and spinach & garlic. Cut into smaller pieces, and replacing the italian herbs with paprika or spices of choice, they're tasty as tenders with bbq sauce/ketchup( it can even be done with shake & bake!).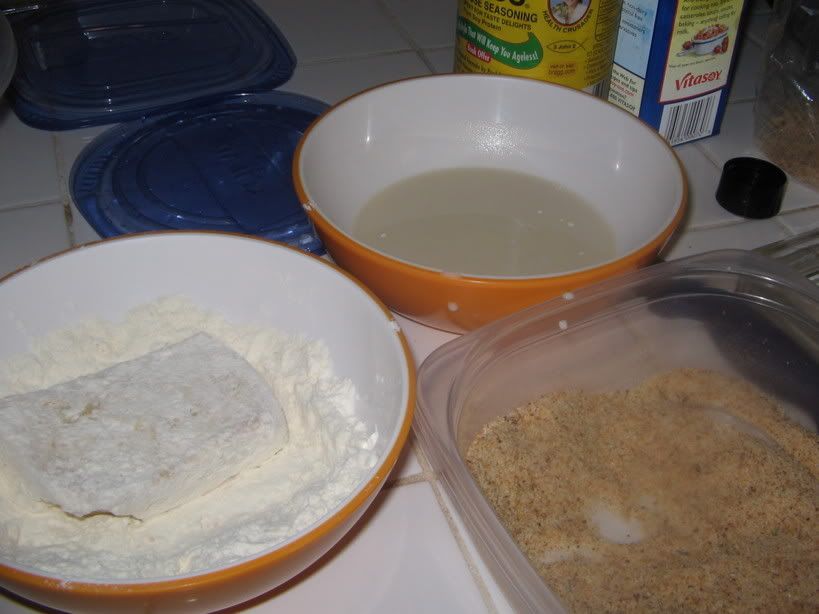 My salad: